The app Super Family will gamify your kid's daily tasks to train them "working & playing to earn". The rewards could be sticker, badges, money, time to use mobile phone, food for virtual pet in the game, or custom rewards by parents.
We conducted the survey on 100 parents.
Many of our mobile applications are top-rated.

Family Communication with AI
Chat tool ingrated in the app allow kid to chat with mom, dad, grandparent ỏ all together in a group chat. You and your kid can use ChatGPT together just by typing /chatgpt "the question that you traing your kid here" then get response from smartest AI so far. The app also suggest your reply to your kid problems.

Screen time control
Parental control now goes to the next level: parents would know what YouTube video or what website your kids visit. You can set time a day, a week. Kids must work by playing "games" to earn more internet time.

Family calendar
This is where you and your kids can add family events, photos and videos of union moments. Your kids should learn time management skill with this smart calendar.
When you choose money as reward for a game, it would be transferred into e-Wallet to train your kids how to use money effectively. Default wallet has 3 sections: Saving (30% of total amount), Frequent expense (50%) and Sudden expense (20%). You can change this ratio as well as add more section such as Investment.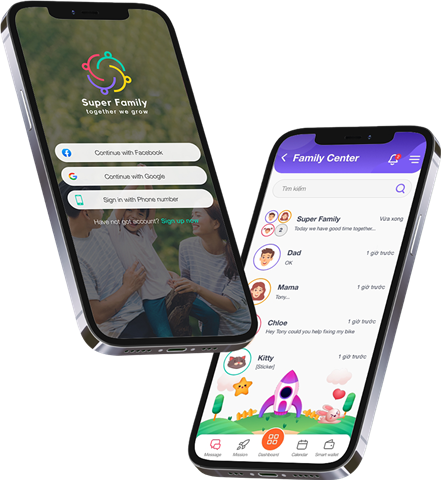 Smart Diary encourages your kids to write down their thoughts, then you would know about your kids' feelings and emotions. The diary is private but our AI would warn you, the parents, if diary content is negative and lasting, so you could have action at the right time to prevent stress and depression of your kids.
See how we apply AI to reduce workload and increase productivity

Text Generator
Many ready-to-use templates for any kind of text such as Ads content, Long-form articles, Product description

Image Generator
Create eye-catching images and graphics in minutes. Promts are ready for UI designers, architecture, Digital markters, Product designers

AI chat bot
Meet your personal assistant in Finance, Healthcare, Language tutor, Travel advisor, Cybersecurity expert and more...
Now you can GPT-4 level of AI starting from only $6.99 per month. Special price for education organizations, please contact us to request.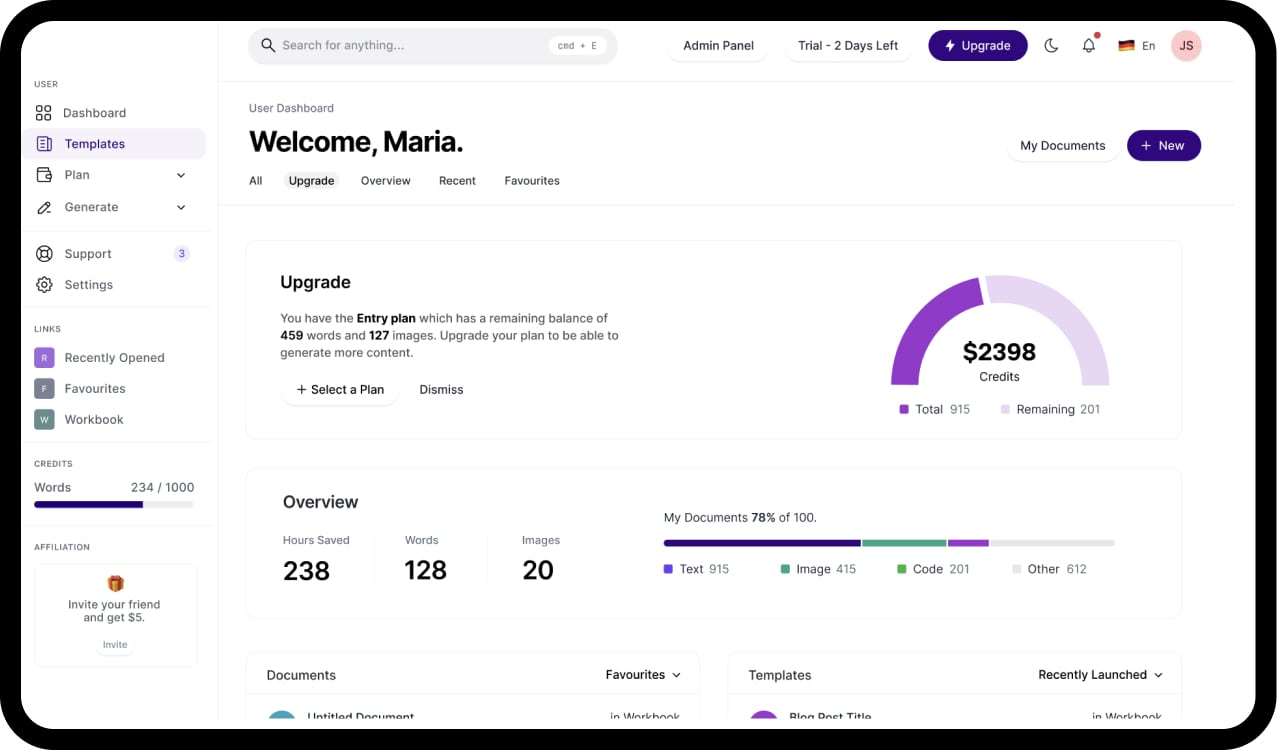 Now I can use ChatGPT-4 with lower price than $20 per month. It helps me saved much.
As a designer, I create my own images from AI.day image generator without searching on stock photos.
Coding now is easy and bug-free. I subsribed 1 year with highest plan of AIday.tech
Get a Free Trial and Special Offers for Education
We offer 7 days trial for all of our SaaS products. For other on-premise products, please contact us via the form below.
Beside those Software as a Service
Other on-premise Products

Our suite CRM and Project management application is very suitable for project kind of companies such as software outsourcing, digital agencies, architect orgsanizations...

Managing leads that are potential clients but haven't signed contracts yet
Monitoring the process and status of conversions through customizable steps from new data to becoming a client
Automatically dividing leads according to rules for sales to continue nurturing
Assigning KPI targets to sales and monitoring achievement rates
Managing deals / sales opportunities
Confirmed orders will be converted into Projects. Projects can be divided into multiple phases/milestones, and plans can be viewed as a list or kanban board showing the progress of each task in the project
Managing files, documents related to the project, and granting access permissions to project team members
Integration with Calendar and reminder systems for upcoming/deadline tasks
Logging user activities
Reporting system for admin to monitor business activities
Configuration and customization of automated workflow, integrated with third parties like email marketing systems and SMS API
NO limit on the number of orders, customers, sales, users
Creating invoices and automatically sending them for customer payments
Monitoring customer payments in part or in full, automatic payment reminders, exporting payment and debt reports to Excel for accounting
Integration for payments through the website portal
Customizable according to specific requirements suitable for the Client's sales process
Give it a try at ERP.HTECOM.NET
- User: [email protected]
- Password: SMczH1YK93fE

The system include
Creating online lectures including formats like Video, Live streaming via Zoom/Google Meet, Slides, and Docs
Creating courses consisting of multiple lectures. Students can continue from where they left off, re-study or skip parts (depending on admin configuration)
Creating exams, online tests with a timer and manual or automatic grading
Issuing certificates, diplomas for students who complete the course
Students can download study materials and complete online exercises
Students can track their learning progress, strengths and weaknesses
Feature to create groups/classes for discussion and sharing learning materials
Feature for learning paths from basic to advanced or random
Automatic student care system for situations including: New student registration, Course completion, Passing a test, Failing a test, Not logging in for X days; X days before course expiry; and creating automatic email scripts sent to students corresponding to each situation
Students can rate and write reviews about the course
Admin can monitor the number of active students, the level of lesson completion, scores, and badges
Instructors can create courses, lectures, and teaching materials if given permissions by the admin
Integration of a gamification system for each achievement milestone to make the course more engaging for students
NO limit on the number of courses or users
Give it a try at LMS.HTECOM.NET
Frequently Asked Questions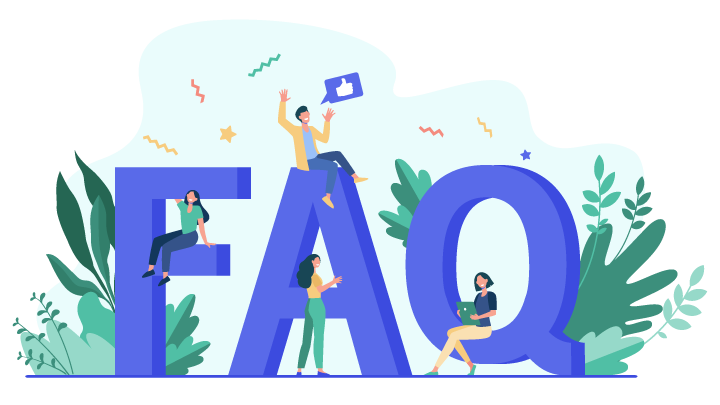 Join our 11,000 happy customers